A few weeks ago the guys (Troy Merkle, Tony Cherry, Ryan Howard, Matt Skaggs, Rick Woodruff, and Scott Marceau) and I went out to California to explore the ride spots from Beverly Hills to Long Beach. This is a photo of Ryan Howard and Rick Woodruff chilling in the van in downtown LA on top of a parking garage in the van, while Tony Cherry and Scott Marceau shoot a time lapse of the city.
Scott Marceau came to photograph the trip, but here he is laying down an x-up ice with a thread the needle landing. Photo: Troy Merkle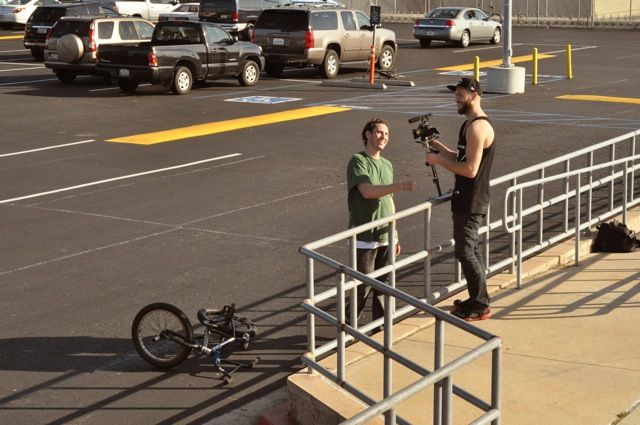 Maybe one of the most interesting spots of the trip, Huntington Beach has quite a few jems. Here Tony and Scott are talking shop on coordinating their next shot.
Gremlin rail to hop over rail! Photo: Troy Merkle
Looking for the infamous Sears ledge in east LA we stumbled upon this perfect setup. After removing the wire rope, Ryan Howard throws down a gap to double peg to bush plow. Photo: Troy Merkle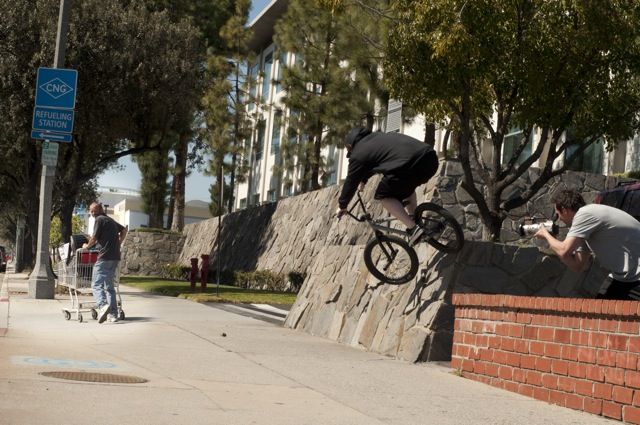 Matt Skaggs was a last minute join to the trip, trying to escape the Ohio winter. After a terrible Panera Bread breakfast Skaggs hit up this ledge ride to wallride. Photo: Troy Merkle
Scott Marceau wasn't happy with the first two Skaggs pulled so Skaggs did it a third time and got smashed on the sidewalk. Good lookin Scott!
Troy Merkle shooting LBC from Signal Hill while searching for spots.